Get Instant Traction With This
Tens of thousands of people are hurt each year when they fall on snow or ice, with many suffering catastrophic injuries. The majority of falls happen at or near home, on flat but slick terrain. With these issues in mind, here are several things that can assist you in walking on ice safely while minimizing slip-and-fall injuries.
Ice melt with rock salt are the traditional ice melting products. The advantage is that rock salt and alternative ice melt will melt ice in most conditions if given enough time while giving traction. But many of the products do not work instantly.
There are two crucial drawbacks. First, most contain substances that irritate the skin, eyes, mouth, and throat, such as sodium chloride and magnesium chloride. Second, in excessive quantities, they are fatal. Humans, pets, and wildlife are all in danger. They do not function in very cold conditions.
So if you're looking for ways to get instant traction try these-
1. Walk On Ice
Walk on ice is a non-salt ice melt alternative product. It gives snowy, icy surfaces a rapid grip instantly. Spread Walk on ice and two critical components present in it will produce a safe, non-slip surface.
It consists of naturally occurring minerals, safe for eyes, skins, and paws. First, the absorbers immediately suck up the water layer that forms on the surface, making it slippery. Then grippers with their spikes securely hold the ice giving you instant traction. It makes walking on clear ice a breeze and works effectively even on black ice.
It is safe for people, pets, and the environment, and it works quickly regardless of the temperature or the condition of the surface. Walk on the ice comes in handy disposable canisters that can easily fit in your handbag and gloves compartment.
Get ready for winter with Walk On Ice instant traction on snow and ice
2. Shoe Chains And Traction Cleats
They are either spiked boots or cleats that connect to footwear or accessories that attach to footwear.
On the plus side, these items work well on ice and snow. They have the disadvantage of being difficult to put on. Steel chains, cleats, and spikes slide readily and become a slip-and-fall hazard on tile and polished concrete. When worn indoors on hard surfaces like tile, ceramic, linoleum, sealed concrete, or epoxy, they become a slipping danger. 
In other words, the same characteristic that makes ice cleats a helpful safety tool outside renders them dangerous inside if you do not remove them.
3. Sand And Kitty Litter
Sand and kitty litter are also used to provide traction. Sand will provide instant traction but will not absorb moisture. Hence, the risk of slip and fall still lingers on you. It does not ensure your safety while walking on ice. You have to ensure that sand used as traction does not end up clogging your drains.
Kitty litter will provide quick traction and absorb moisture, but only to the point where it will stick to the driveway. Therefore, it gets messy and difficult to clean.
Conclusion
Walk on ice uses a dual safety approach to ensure quick traction on snowy terrain. It does not add any harmful chemicals or salts to our environment. It's a more practical solution to preventing slipping on ice that's been demonstrated to be both cost-effective and environmentally friendly.
Get ready for winter with Walk On Ice instant traction on snow and ice
Other Ice Melt Products
Safe Paw
The Original and the #1 Pet and Child Safe Ice Melt for over 20 years. Guaranteed environmentally safe – will not harm waterways and sensitive wetlands. Safe Paw can change how winter affects our planet.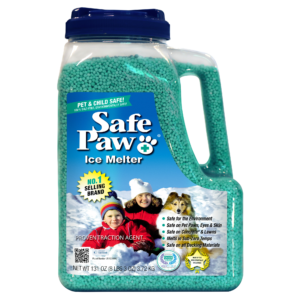 Safe Thaw
Imagine an ice melt you can put down and never worry about. It won't harm pets, kids and your property. That's Safe Thaw. Unlike anything else on the market, Safe Thaw can change how winter affects our planet.