5 Pros And Cons Of Ice Cleats In Winters
While it's best to wear footwear that's appropriate for the season, work shoes or boots don't always cut it when it comes to walking in cold weather. People often choose ice cleats or spikes for shoes to walk on ice. Let us know more about the pros and cons of ice cleats and how to walk on ice without slip and fall.
How Much Ice Is Safe To Walk On?
Walking on ice is not recommended until it is at least 4 inches thick. The 4 inches of ice can sustain around 200 pounds, making it ideal for ice fishing, cross-country skiing, and walking.
Pros And Cons Of Ice Cleats In Winters
Pros
Ice cleats include spikes for shoes to walk on ice. It provides traction and prevents slips and trips on icy surfaces. The bottom of a pair of ice cleats has extreme traction, as it is designed to penetrate ice and hard-packed snow.
You don't need to buy special winter boots for each season but can use the ice cleats on your normal shoes.
They can be brought from winter accessory shops or ordered online.
Ice cleats are available in various designs and sizes.
The use of ice cleats for outdoor employees will undoubtedly reduce the number of slips, trips, and falls at your company.
Cons
The same factor that makes ice cleats a safety tool outside makes them dangerous indoors if you do not remove them. When worn indoors on hard surfaces such as tile, ceramic, linoleum, sealed concrete, or epoxy, these cleats become a serious slip danger.
Cleats aren't great for mountain climbing since they're difficult to maneuver in and the spikes aren't long enough to provide a secure grip on an angled surface.
Extremely rocky terrain can also be difficult on cleats, causing the spikes and housings to break. They are also hampered by deep snow.
Ice cleats often last only one winter season if used frequently. Moreover, they make driving tedious.
It's also worth remembering that because steel is a good conductor of heat, ice cleats on the bottoms of boots tend to cause more heat loss from the feet while walking.
Get ready for winter with Walk On Ice instant traction on snow and ice
Walk On Ice- Best Traction For Walking On Ice.
Walk on ice is a salt-free traction solution that gives you an instant hold on icy, snowy surfaces. It contains naturally occurring minerals that are gentle on the eyes, skin, and paws. It has grippers and absorbers that work together to provide immediate traction. The absorbers soak the water layer formed on the surface. The grippers then use their spikes to secure the ice, allowing you to gain immediate traction.
It is safe for humans, pets, and the environment, and it works quickly regardless of the temperature or condition of the surface. It comes in a handy disposable can that can fit into a handbag or gloves compartment.
Conclusion
Slips, trips, and falls are very common, especially in the winter. Ice and snow build up on sidewalks and, in parking lots, corridors become slick as the snow melts off people's shoes, and day-to-day footwear may not provide adequate grip to prevent difficulties. Hence, Walk on ice is the best option for immediate traction on any surface. It will protect you and also safeguard your near ones from any slip and fall injury.
Get ready for winter with Walk On Ice instant traction on snow and ice
Other Ice Melt Products
Safe Paw
The Original and the #1 Pet and Child Safe Ice Melt for over 20 years. Guaranteed environmentally safe – will not harm waterways and sensitive wetlands. Safe Paw can change how winter affects our planet.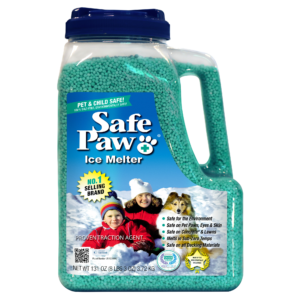 Safe Thaw
Imagine an ice melt you can put down and never worry about. It won't harm pets, kids and your property. That's Safe Thaw. Unlike anything else on the market, Safe Thaw can change how winter affects our planet.