All The Ways To Use Walk On Ice
When we think about winter, the next thing that strikes our mind is snow. The beautiful white layer of snow may look ravishing but can cause serious accidents.
But if this incident happens on your premises, you may be subject to a personal injury lawsuit. To protect yourself from such liabilities, it is critical to avoid slip-and-fall claims. You, your family, and your visitors can now walk on ice and snow. There are multiple ways by which you can achieve it and, the most popular being using anti-slip traction agent around your house and premises.
Walk on ice is one such solution that provides instant traction on any icy surface.
Let's First Understand Why We Fall-
It's not the ice because of which we fall. Yes, the reality is, we slip because of the thin layer of free water at the surface of the ice. This layer of water is always present irrespective of what the temperature is. The loosely bonded molecules of water make the surface slippery. Therefore, the underlying reason why we slip on icy surfaces or car tires skid is the lack of friction or natural traction.
What Is Walk On Ice, And How It Works
Walk on Ice is a traction agent that has 100% natural ingredients in its blend. This product is a blend of natural volcanic rock and seven other minerals which are safe for everyone and can be reused. These geo crystals are gathered from mines and then processed to produce the product. Different crystals are selected to maximize the absorption of the free water. These different-sized crystals bury themselves into the ice and create the "sandpaper effect" representing a non-slip surface.
Get ready for winter with Walk On Ice instant traction on snow and ice
The non-toxic natural traction agent is safe for children, pets, plants, and the environment and allows you to walk on ice and snow.
In this article, we will understand the different ways in which we can use this product.
Walk On Ice Is Particularly Helpful In Cases-
-When you're stuck in the snow
Vehicles that skid on the ice have more significant repercussions than individuals who slide on the ice. Because of its convenient size, it's perfect to store in a glove compartment.
Simply rub it on and around your tires, and your car is free.
-When you need to access your walkway and reach the car
Icemelt does not serve the need for people to cross the icy or snowy surface immediately. Walk on Ice allows you to do that. Simply pull it out from your purse, spray it on your path, and now you can walk on ice without slipping.
-When your kids want to play in the backyard
Snowfall days can be really gloomy especially for kids as they can't go out to play. Now you can make your backyard accessible to them for playing without having to shovel away the snow with the walk on ice.
The walk on ice solves your problem of slip and fall and keeps your concrete safe. Not only does it provide a safe environment for your family, but it's safe for the environment too.
Get ready for winter with Walk On Ice instant traction on snow and ice
Other Ice Melt Products
Safe Paw
The Original and the #1 Pet and Child Safe Ice Melt for over 20 years. Guaranteed environmentally safe – will not harm waterways and sensitive wetlands. Safe Paw can change how winter affects our planet.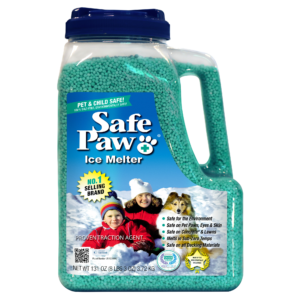 Safe Thaw
Imagine an ice melt you can put down and never worry about. It won't harm pets, kids and your property. That's Safe Thaw. Unlike anything else on the market, Safe Thaw can change how winter affects our planet.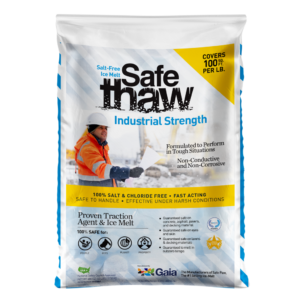 ---
---