Winter Traction Devices
Ice traction devices are useful for more than just keeping you upright while shoveling snow or navigating the parking lot at the supermarket. You can enjoy your outdoor activities if you have sure-footed traction on snow and ice. We all have used winter traction devices one way or the other to avoid slip and fall. They can be boots for walking on ice, spikes, or other time-tested traction products.
Let us find more about these traction devices.
Walk On Ice
Walk on ice is a salt-free traction solution that gives you an instant hold on icy, snowy surfaces. It contains minerals that are non-hazardous and will not affect the eyes, skin, and paws because they are naturally occurring. It has grippers and absorbers that work together to provide immediate traction. Absorbers soak the water formed on the surface. The grippers then use their spikes to secure the ice, allowing you to gain immediate traction. It works well on all surfaces and provides you enough traction to walk safely.
It is safe for humans, pets, and the environment, and it works quickly regardless of the temperature or condition of the surface. It comes in a handy disposable that you can easily carry around in a handbag or gloves compartment.
Get ready for winter with Walk On Ice instant traction on snow and ice
Spikes For Walking On Ice
A personal traction device, often known as ice cleats, spike shoes, ice spikes, or spike shoes, is a commonly used winter traction device. On the ice, non-slip shoes don't give enough traction, and your work shoes might cause damage by slipping or tripping on a slippery surface. With thick clothing and several layers, winter can already be a bit uncomfortable. You don't want to be wearing ill-fitting ice cleats in your shoes. When buying ice spikes, make sure to read the description to make sure they'll work for your needs. Moreover, do remember to take them off while walking indoors. They can cause slip and fall incidents on indoor surfaces.
Boots For Walking On Ice
Another traction device used in winter is winter boots. Depending on the shoe's waterproofness and the depth of the snow, winter boots can be worn while walking in the snow. Before purchasing a pair of these shoes, make sure that they are watertight. Do wear warm socks and snow gaiters. Winter boots aren't the lightest shoes you'll ever buy, what with all the insulation, padding, and waterproofing. Heavy winter boots make their presence felt unmistakably after only a few hours of usage.
Sand And Kitty Litter
People also utilize sand and kitty litter as traction agents. Although sand provides instant traction, it does not absorb moisture. You need to clean the sand after each use so that it does not clog your drains.
Kitty litter absorbs wetness and provides initial traction, but only until it sticks to the driveway.
Get ready for winter with Walk On Ice instant traction on snow and ice
Other Ice Melt Products
Safe Paw
The Original and the #1 Pet and Child Safe Ice Melt for over 20 years. Guaranteed environmentally safe – will not harm waterways and sensitive wetlands. Safe Paw can change how winter affects our planet.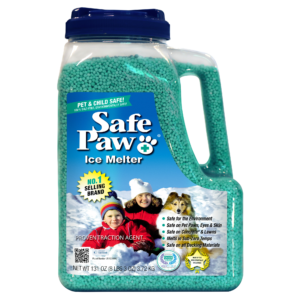 Safe Thaw
Imagine an ice melt you can put down and never worry about. It won't harm pets, kids and your property. That's Safe Thaw. Unlike anything else on the market, Safe Thaw can change how winter affects our planet.