When Ice Melt Fails Here's What To Do
Soon we all would be gearing up to face the upcoming snowy winter with a long to-do list before the season starts. One of the biggest winter woes is to keep your walkway, driveway, and steps free from the treacherous layer of ice to avoid any slip and fall accidents.
There are two ways to do that-
1- Remove the snow
2- Add traction on the surface
There are so many ways to get rid of the snow Let's discuss them one by one.
1- Shoveling
One of the most effective ways to keep your steps free from ice is to shovel early and remove the fresh snow before it starts to freeze into a slippery hard ice layer. The downside is that shoveling is laborious, takes a lot of time, and is hard on your back. Moreover, if you are dealing with a frozen layer of ice, shoveling it away becomes onerous and can cause severe injuries due to slip & fall accidents.
2- Using Ice Melt
Using ice melt or rock salt is one of the most popular ways of clearing snow, but it isn't the best method. The reason being, sodium chloride contains corrosive oxidizing agents that are suited for removing ice, but it also damages your concrete. Moreover, it is not environmentally friendly and can harm your pets and plants too.
The problem with the above two methods is either it takes a lot of time or effort or both.
Get ready for winter with Walk On Ice instant traction on snow and ice
What if you need to access your driveway right away? In such cases, ice melt fails because it takes at least 4-5 hours to melt the snow. Therefore, here's what you can do-
3- Non-Slip Walk On Ice Boots
These shoes have stainless steel chains tucked at the bottom to provide traction. While you may think you finally have the solution and now you can walk on ice, here's a study that says 90% of non-slip walk-on-ice shoes fail the test.
Of 98 models of boots the lab tested on ice and wet ice, only nine passed a slip test.
"You'd think winter boots would be adapted for winter, but they're not. Some of the boots are so bad that they couldn't stand up on level ice," says Dr. Geoff Fernie, research director at the rehabilitation institute.
So, is there really a solution? Let's find out.
4- Walk On Ice
What if I tell you there's a way you can walk on ice without the fear of slipping and falling. It's a traction agent composed of natural crystals. These crystals create a solid layer on a surface to provide better footing for traction on snow. Firstly, they absorb excess water that makes ice less slippery. Then, the gripper granules dig into the ice and create a dry, non-slippery layer.
Because of its convenient size, it's perfect to store in a glove compartment or even in a handbag. Walk on ice is particularly helpful in cases when you're stuck in the snow. Simply rub it on and around your tires, and your car is free. Not only does it provide a safe environment for your family, but it's also safe for the environment too. Walk on ice not only solves your problem of slip and fall but also keeps your concrete safe. 
Get ready for winter with Walk On Ice instant traction on snow and ice
Other Ice Melt Products
Safe Paw
The Original and the #1 Pet and Child Safe Ice Melt for over 20 years. Guaranteed environmentally safe – will not harm waterways and sensitive wetlands. Safe Paw can change how winter affects our planet.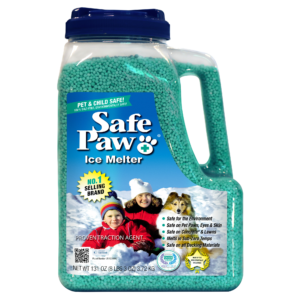 Safe Thaw
Imagine an ice melt you can put down and never worry about. It won't harm pets, kids and your property. That's Safe Thaw. Unlike anything else on the market, Safe Thaw can change how winter affects our planet.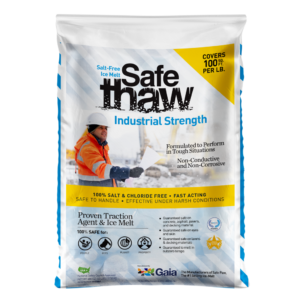 ---