9 Important Items You Need In Your Winter Car Survival Kit
We know how extreme it can get in winters. Walking on snow and ice is difficult due to the risk of fall accidents, and cars seem to be your best bet if you want to travel in the chilly weather. However, the worst nightmare is to get stuck in heavy snowfall or a patch of icy surface in your car. Although this kind of situation is rare in big cities, you must be prepared if you're living in small cities or traveling on less busy roads. In such a scenario, it is always great to have some essential items in your car. 
Get ready for winter with Walk On Ice instant traction on snow and ice
Below Are 9 Important Items You Can Carry In Your Car During Winter As A Survival Kit 
It is cold and snowy, and you cannot proceed any further; in such a case, it is always better to have a set of warm blankets in your car. Even if you are not stuck, you can always use them to keep yourself warm in the car. They become essential if your car runs out of gas or your heater is not working.
Keep a couple of boxes of non-perishable food in your car that can last up to two-three days minimum. We never know where and when we may get stuck and how long it will take for the help to reach us.
Having a couple of gallons of water is one of the essential items on your list. You can survive without food for a while, but you cannot survive without water. Therefore, you must keep yourself adequately hydrated even during winters to avoid feeling parched.
It is vital to have an emergency first aid kit in case of an emergency. You can gather all your essential medicines and make a handy kit for your car.
Having a reliable traction agent such as Walk On Ice is one of the top essential items in your emergency kit. It not only helps you in walking on snow and ice but can also help to unstuck your car from the snow. You can sprinkle some granules between your tire surface and snow. These granules provide a sandpaper-like effect and help to free your stuck car.
Get ready for winter with Walk On Ice instant traction on snow and ice
Having a flashlight makes life much easier. Keep it handy in your glove compartment in case you get stuck in a blizzard. Flashlights also come in handy when you want to indicate your location to rescue people from a distance in the night.
Wear or carry walk-on ice grips for shoes to help you walk if you step out. In addition, you can purchase a variety of boots and anti-skid spike soles from the market near you.
Keep a gallon of gas handy, especially if you are traveling for a long-distance or are worried that you will be hit by a snowstorm.
The weather forecast is not always correct. Hence it helps to keep a scraper and snow brush handy to remove several inches of snow from your car in case of a heavy snowfall.
Other Ice Melt Products
Safe Paw
The Original and the #1 Pet and Child Safe Ice Melt for over 20 years. Guaranteed environmentally safe – will not harm waterways and sensitive wetlands. Safe Paw can change how winter affects our planet.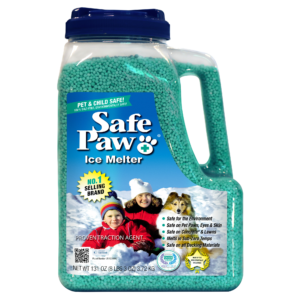 Safe Thaw
Imagine an ice melt you can put down and never worry about. It won't harm pets, kids and your property. That's Safe Thaw. Unlike anything else on the market, Safe Thaw can change how winter affects our planet.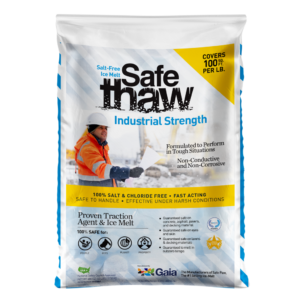 ---