5 Things You Can Do To Make Your Car Safer For Winter Driving
The winter season can be hazardous to vehicles, which is why drivers should plan ahead of time for when the worst weather arrives. The winter season can cause problems in various ways, whether you're driving on the highway or warming up your car in the driveway.
Keeping off the streets is unrealistic if you reside in a province where winter is always blanketed in snow and ice. As you need a safety aid to walk on ice similarly, you need help while driving in snow. Here are some tips for driving on snow and ice-covered roadways. 
Get ready for winter with Walk On Ice instant traction on snow and ice
The brakes will help you stop without slipping if you need to stop quickly. For example, suppose your vehicle has a modern braking system. In that case, you may have felt or heard the anti-lock braking system (ABS) operate, which assists you in stopping in slippery circumstances by rapidly pumping the brakes.
When driving on snow- and ice-covered roads, never brake or accelerate suddenly if you start sliding while braking, take your foot off the brakes and point your steering wheel in the desired direction.
Remove Snow From Your Vehicle
If you are planning to drive while it's snowing or bitterly cold outside, clear your car so you can see out the driver's window—clean all of your windows, your car's hood, and your taillights and headlights.
Otherwise, the snow will fall over your windshield as you descend, and in certain provinces, this is a fineable offense.
Using the right traction agent can avoid accidents resulting from slippery surfaces. Use a traction product that is made of natural ingredients and gives traction. Fortunately, we have such products in the market. You can get it in a disposable can carried in a bag or gloves compartment. It can be rubbed on the tires of your vehicle before you start driving in treacherous ice and snow.
Get ready for winter with Walk On Ice instant traction on snow and ice
Untrained drivers on icy roads or not having the proper tires mounted constitute a significant concern when driving in a snowfall. Slow down as you go. Keep a safe distance between vehicles when driving in a snowfall because you need enough space and time to brake properly.
Safeguard Your Winter Driving
You should probably avoid getting behind the wheel if the weather is terrible. Instead, it's preferable to wait until a snowstorm has passed or until you're confident that road maintenance vehicles have been on the roads recently. Also, use headlights while driving in snow; it will make you visible to others in difficult situations.
Conclusion
Due to variables such as snow and ice on the road, winter driving conditions can be dangerous. While you need to be equipped for winter driving, your vehicle must also be up to the task. An effective traction agent like Walk On Ice gives you safety from slips and falls. It is a safety aid to walk on ice and drive on ice. You can easily carry it and use it on any surface for traction.
Other Ice Melt Products
Safe Paw
The Original and the #1 Pet and Child Safe Ice Melt for over 20 years. Guaranteed environmentally safe – will not harm waterways and sensitive wetlands. Safe Paw can change how winter affects our planet.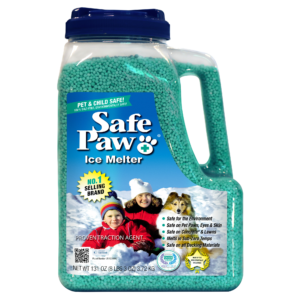 Safe Thaw
Imagine an ice melt you can put down and never worry about. It won't harm pets, kids and your property. That's Safe Thaw. Unlike anything else on the market, Safe Thaw can change how winter affects our planet.